My siblings and I were taught to expand our minds through knowledge and to always take advantage of educating ourselves. The benefits of education were often praised in my family because my mother, Janice, realized how important it would be for our future. She would often say, "No one can take your education away from you". Along with her emphasis in investing in our education, she stressed the importance of being a Mi'gmaw speaker. Our family stood out because we had a household of Mi'gmaw speakers and most families in Listuguj spoke English. We are aware that our language makes us a close-knit family because we share something that not many families in Listuguj have. This kind of compassion for language is evident in her work, which brings forth an awareness to preserve our rapidly disappearing language.
More recently, the community of Listuguj has been motivated to reconnect with the Mi'gmaw language. Though many people in the community are familiar with my mother, her contributions to language often go unnoticed. She works full time as a Nursery Mi'gmaw Immersion teacher with a goal of making Mi'gmaq a part of these children's everyday lives. She incorporates other aspects of the Mi'gmaw culture in unique ways that stimulate the children's minds, making them eager to learn. In addition to her work as an educator, she is often asked to translate various projects into Mi'gmaw. For example, in the past she has contributed to translations of a Ph.D dissertation, a Mi'gmaq/English dictionary, scripts and community journals. Occasionally, she also co-teaches Mi'gmaw Language classes with her sister Mary Ann for community members and has assisted in teaching a Mi'gmaw Language course for Cape Breton University.
A group of colleagues at the Listuguj Education Directorate came across the Indspire Educator Awards that had a category suitable for my mother's nomination—Language, Culture and Traditions. The award was created for an indigenous educator who made a vital contribution to his/her community by inspiring people through education. Her colleagues saw this as an opportunity to enlighten her accomplishments and decided to construct a nomination package. The nomination package also included letters of support from community members who had been moved by her efforts.
My mother's impeccable knowledge in the Mi'gmaw Language, her diligence as an educator and her willingness to help others is inspiring to many. The passion she radiates for educating the people of Listuguj, and the energy she spends in language revitalization, is key to cultural awareness. Her fundamental contribution to the Mi'gmaw Language is the reason why she had been chosen to receive the Indspire Educator's Award. Knowing that she is a humbled woman, we are thrilled that she finally has been acknowledged in a way that she deserves.
Wellugwen aq Wela'lieg!
Congratulations and Thank You!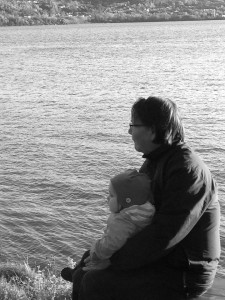 Janice and her Granddaughter Mila
Photographer: Marsha Vicaire.